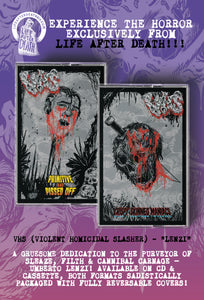 VHS - "Lenzi"
VHS is proud to announce its latest sonic assault, Lenzi, coming late July from Life After Death Records on CD and Cassette. 
2 tracks clocking in at just under 20 minutes and dedicated to the purveyor of sleaze, filth and cannibal carnage Umberto Lenzi. 
Mastered by Dan Swano and artwork for the full reversible booklets and jcard by Gruesome Graphx and layouts by Claw Eight!
"Primitive and Pissed Off" is now streaming. A 9 minute ode to Make Them Die Slowly, the gross out flick of cannibal carnage that was banned in 31 countries. 
CDs and Cassettes expected late July.

https://lifeafterdeath.bandcamp.com/album/lenzi
---