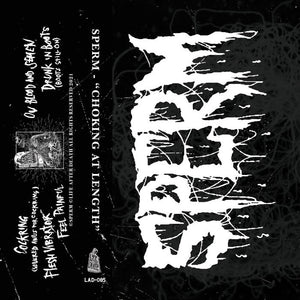 Sperm - "Choking at Length"
Sperm - "Cockring (Severed Anus for Cockring"
First single from debut EP, "Choking At Length". Out January 28th 2022.
Sperm is:
Vocals - Ricky Grotto
Guitar - Forest Davis
Bass - Johnny Newport
Drums - Carlo Rossi
Recorded by Sperm May 2021
Mixed & Mastered by Will Killingsworth at Dead Air Studios
Logo by Scott T
Layout by Life After Death
"Sperm would like to thank the BOSS DS-1 for it's steady stream of inspiration and radiant tone. Thanks to Erik's Grocery Canton. Thanks to Maggiore's Drive Thru. Thanks to piesandanimethighs."
SPERM IS CUMMING
https://lifeafterdeath.bandcamp.com/album/choking-at-length
https://youtu.be/z-2jvcTIoqE
---