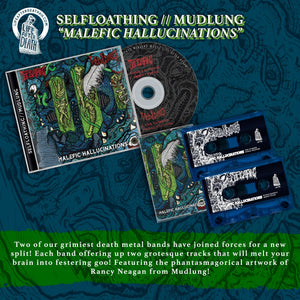 Malefic Hallucinations
Printed off 100 shipping labels last night. I hate preorders but it's great to finally be able to start getting them out the door. We do have one preorder left open, and it will be the last for a while. Will not be doing preorders again unless we fall upon harsh times again...
Finally committed to putting out the long overdue "Malefic Hallucinations" CD. You may have heard that Self Loathing is calling it quits, or rather, forming a new band. This is still somewhat sad for me as they were the first band I put out on this label. Nevertheless we can still enjoy their music and support them on their new project.
Tapes are still available on Bandcamp and webstore or you can preorder a CD there as well.
---